Find Your Passion
The Process
Begin by filling out an application and uploading your resume below. Qualified candidates will be contacted for interviews. All candidates are automatically considered for all available scholarships for which they qualify (if any further action is required, each qualified candidate will be notified). For further information, see scholarship page.
OmniLYF Holdings does not and shall not discriminate on the basis of race, color, religion (creed), gender, gender expression, age, national origin (ancestry), disability, marital status, sexual orientation, or military status, in any of its activities or operations. These activities include, but are not limited to, hiring and firing of staff, selection of volunteers and vendors, and provision of services. We are committed to providing an inclusive and welcoming environment for all members of our staff, clients, volunteers, subcontractors, vendors, and clients.
OmniLYF Holdings is an equal opportunity employer. We will not discriminate and will take affirmative action measures to ensure against discrimination in employment, recruitment, advertisements for employment, compensation, termination, upgrading, promotions, and other conditions of employment against any employee or job applicant on the bases of race, color, gender, national origin, age, religion, creed, disability, veteran's status, sexual orientation, gender identity or gender expression.
Find Your Passion
Things To Know
A 2017 Gallup Poll suggests 78% of workers are disengaged at work. While we typically blame the companies, here at OmniLYF we believe people are actually often selecting the wrong careers.
All too often, students finish their four-year degree after spending five years and tens of thousands of dollars pursuing a career they don't know much about. Then six months into their "dream" job the student ends up deciding it's not for them and they wished they could have gone into something else.
OmniLYF shows students four careers in just eight weeks ensuring that when students spend that time and money in college, it's for the career path they will actually love.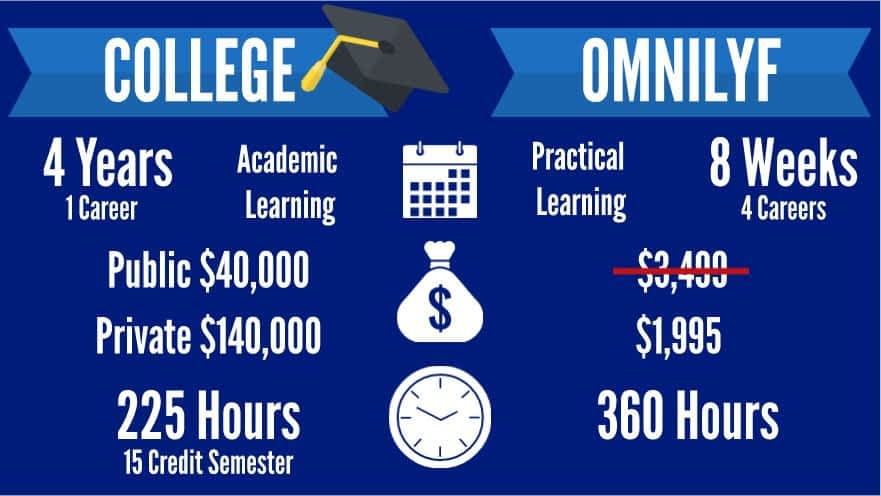 Pricing

*Price with Scholarship
The OmniLYF goal is to raise enough money to provide scholarships to all participants making the program nearly as little as $1/hr. All applicants are considered for all available scholarships.
Without a scholarship the program still works out to just $5.50/hr for the 8-week program as compared to $25/hr to $100/hr for most college courses and $8-$40 for most pre-college enrichment summer programs.
EMAIL