$129,000
Average Total Cost of 4-Year College
6 Years
Average Length of 4-year degree (Total Cost-$193,500)
$33,000
Average Total Cost of 2-Year or Tech College
90,000
Number of Hours Spent Working
Happiness
The Price or Prize of Your Career Decision
The Solution
Students need to experience their professions before they spend all of that time and money.
OmniLYF provides them with the ability to decide if they like a career before they have to commit to one. This allows the investment of both time and money to be well placed and ensures both are spent in the pursuit of their future happiness.
Resume Boosters –
Programs Learned
*Money and time saved are potential savings based on average time spent in college on a 4-year degree (6 years) and average total cost of college per year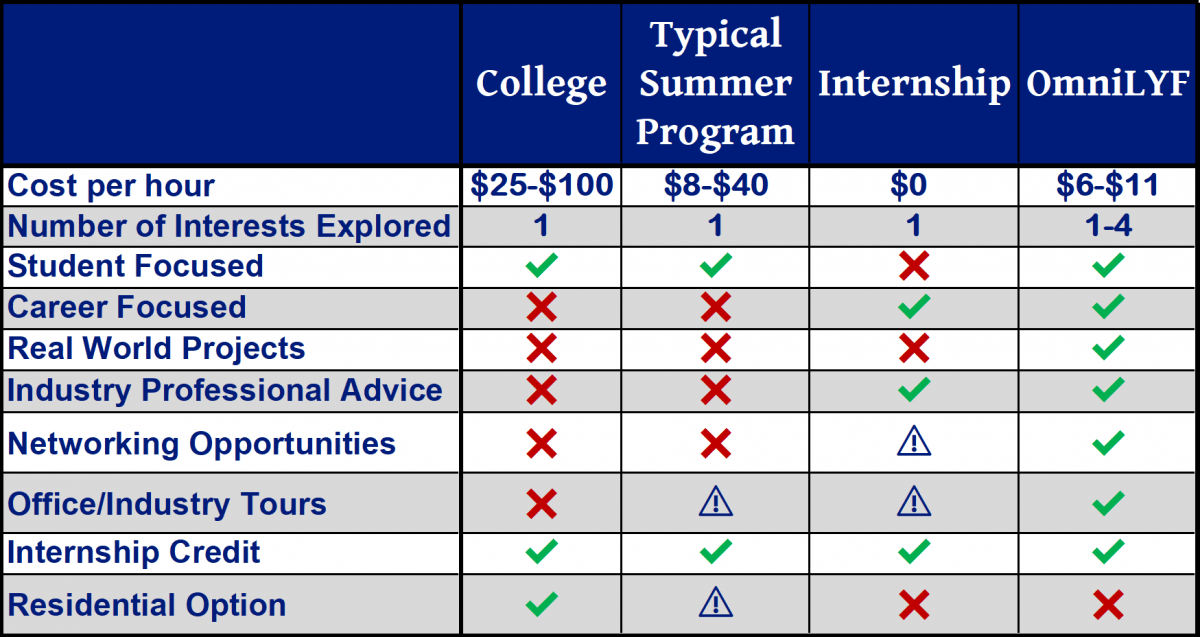 Cost of the Houston Summer Internship Program?
2-WEEK PROGRAM
$ 995
$895
$195*

4-WEEK PROGRAM
$ 1,995
$1,595
$295*

6-WEEK PROGRAM
$ 2,895
$1,995
$395*

8-WEEK PROGRAM
$ 3,495
$1,995
$395*

*Pricing with scholarships
The OmniLYF goal is to raise enough money to provide scholarships to all participants making the program nearly as little as $1/hr. All applicants are considered for all available scholarships.
While OmniLYF is cheaper than most pre-college and early-college summer programs, anything that provides your student with real-world experience in the fields your child is most interested in is what they should participate in.
The mindset of "I'll figure out what I'm going to do in college" is costing parents and students tens of thousands of dollars and years of their lives. Investments into students' future before college will be the new norm in the coming years as it not only will save in time and money, but it will increase the likelihood of students finding something they actually want to do for the next 40 years.
78% of People Failed. How Do We Help Our Students Find the Job They'll Love?
By Bobby Fausett – January 15th, 2019
Most people don't love their jobs. In fact, 78% of people are either not engaged at work or they are actively seeking another job. That's three quarters of the American population that would be happier doing something else. And while that seems to be a lot, that number is probably not high enough. If you consider there are over 12,000 different jobs, the sheer odds of picking the profession that would make you the happiest are not good.
Read more…